In this regular feature we speak to one of the members of the Wessex Guild to find out a bit more about them and their craft, techniques and inspirations.
How did you start doing your craft? What inspired you?
Having been a woodcarver for over 20 years, winning many awards at a very high level, in 2017 I decided to make some Bush Knives. Having made the blades, I needed some leather scabbards. These I made by wet moulding the leather around the blades to achieve a snug fit. From that moment, I was hooked! Leather is such an interesting medium to work. Every hide reacts differently to the tools and dyes.
What relevant experience or qualifications do you have?
I had no previous experience or training in leather work, so quite a few hours were spent watching the masters on YouTube, experimenting, and pushing the leather to its limits.
What do you do and where do you do it? Do you have an interesting workspace or location?
I am lucky to have two workshops in the garden. One is purely for leather work and I also have a larger one for carving, turning and general crafting. It's great working with the doors open, listening to the birds singing, especially in the spring and summer months.
What is your design and making process? Can you explain a little about your techniques?
I base all my crafts around Nature, following her ever-changing colours and moods. I work mainly with vegetable-tanned leather. As the name implies, this has been tanned in vats of vegetation and bark, making the end result ideal for carving, moulding, sculpting and dying. I also use chrome-dyed leather and occasionally combine the two with exotic woods to create my unique work. Where possible, I use my own dyes, made from wild fruit, berries and leaves.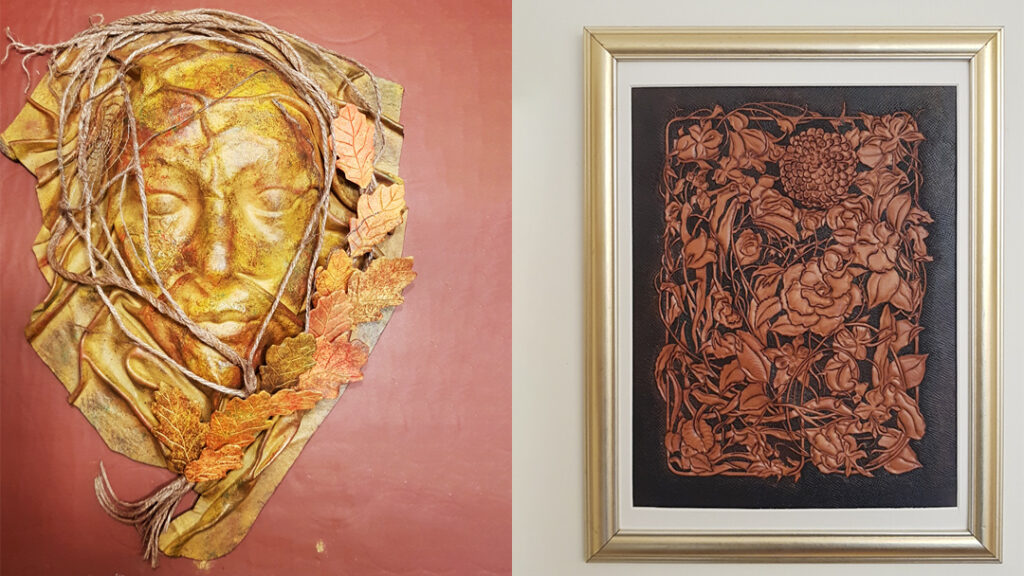 Can you tell us about a special artwork you made?
I have recently finished a chessboard. The base is 60cm square and constructed using Birdseye Maple and Purpleheart. The playing field is one piece of vegetable-tanned leather, with hand-carved Old Norse mythological knotwork and symbols, airbrushed two colour squares, and it is inset with the Rune alphabet.
Currently, I am working on a Viking battle tunic, complete with 'six pack', and hand-carved Viking symbols. It is my biggest project to date! When working on a large and intensive piece, I like to have several smaller pieces in the pipeline too, to help alleviate 'brain fog'. It works for me!
See more of Graham's work on his Member profile page.