Textile supremo Sheila Barrow was commissioned to create a bespoke artwork for a special gift. Here she explains how this piece came together, revealing its development in the series of images you see here. Sheila and many of our members enjoy making exclusive art and craft so, if you see a medium or style you like on this website, why not get in touch with them to discuss your ideas? 
I was pleased to be asked by a friend to produce a commission for a 40th birthday present. It was to be based on walking holidays in the Lake District, making it a truly unique and personal piece.
My starting point was a series of photos, sketches and collage of the region near the Helvellyn mountain in this beautiful and rugged part of the country. Since lockdown, I think it is particularly nice to be able to create a memento of long walks out in the countryside, when you can escape from daily worries, appreciate nature and feel the wind in your hair.
All of my pictures evolve over time, as I like to create depth and atmosphere using layers of paint, stitch and sheer fabrics over a base of calico.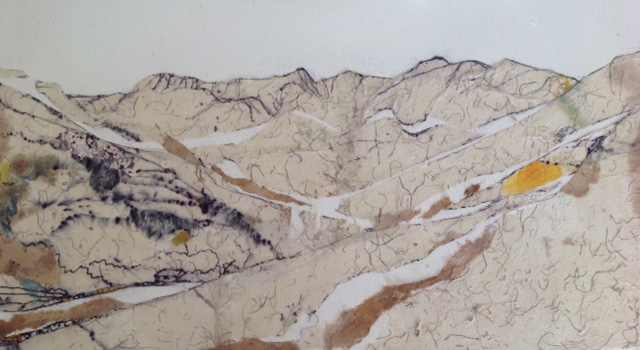 In this case, I decided to introduce contour lines into picture, which proved trickier than I anticipated.
My motto is, "if it doesn't go according to plan, cut or tear it up and reassemble", and then add more stitch, for texture, and paint, to hide a multitude of mistakes!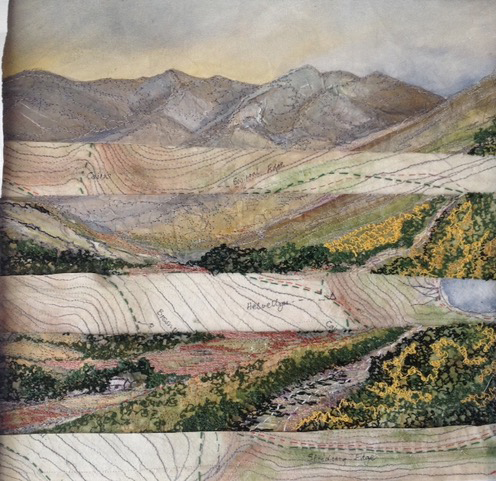 Happily, the picture suddenly came together when I was inspired to add a stone wall in the front and some figures to give it scale (see the top, featured image). 
It was very much an experiment but, fortunately, it was very well received.
I enjoyed the whole experience and it was a particularly welcome project to do during lockdown, as I found it focused the mind and the subject represented a tranquil scene and happy memories.