Wessex Guild artists are keeping creative during lockdown. Chair, and creative textile artist, Sheila Barrow, has been making some new pieces.
This framed piece was made from an old tablecloth (so ticking the recycled box). It features a base of a mixture of acrylic paints and inks which are then embellished with thick threads in the bobbin, using the free machine embroidery technique.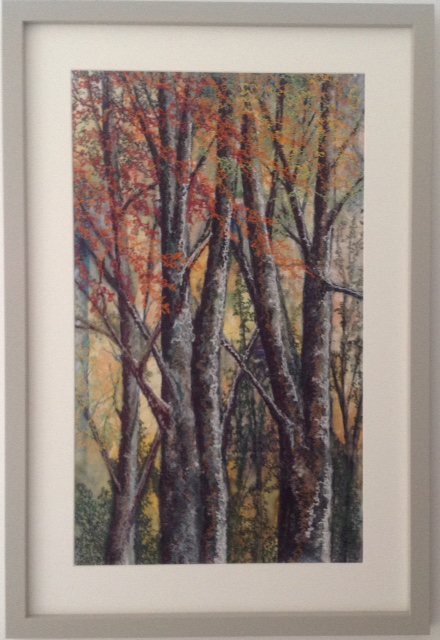 It has been professionally framed by Chris at the Hampshire Framers shop in Bishops Waltham, Hampshire.

Further work in progress during the current lockdown includes these dreamy Hydrangeas and Wild Carrot pictures (see main feature image).
The Hydrangeas design has been sprayed and painted on calico with acrylic paints and inks and embellished with sheer fabric and free machine embroidery.

The Wild Carrot picture was painted on calico and free machine embroidered with thick threads which are wound on the bobbin, thus meaning Sheila is stitching upside down!
To buy her work or commission your own piece, contact Sheila via her Member page. There, you can also see more pictures of her work.