In this regular feature we speak to one of the members of the Wessex Guild to find out a bit more about them and their craft, techniques and inspirations.
How did you start doing your craft? What inspired you?
I started sewing when I was about 17 years old. My mother, who couldn't sew at all, bought me a Riccar sewing machine. However, it was my mother-in-law who inspired me. She could sew and knit anything, and still does at the age of 97.

I used to make all my own clothes, as well as clothes for both of my daughters. Now that they are grown up, I concentrate on embroidered cushions and making bags, mainly in Harris Tweed.

I have a passion for sewing with Harris Tweed. I love the colours, the textures and the land that it comes from – The Isles of Lewis and Harris in the Outer Hebrides. Harris Tweed is the only fabric in the world that has its own Act of Parliament.
What relevant experience or qualifications do you have?

I have City and Guilds, Level 3 Design for Craft and a City and Guilds, Level 3 Machine Embroidery.
What do you do and where do you do it? Do you have an interesting workspace or location?

I have a large workroom in my home, where I have two embroidery machines, a heavy-duty sewing machine, an overlocker and button covering machine, plus many other sewing-related gadgets.
What is your design and making process? Can you explain a little about your techniques?

I have digitising software for my embroidery machines. I like to create designs on my computer that are then sent to the machine to stitch out.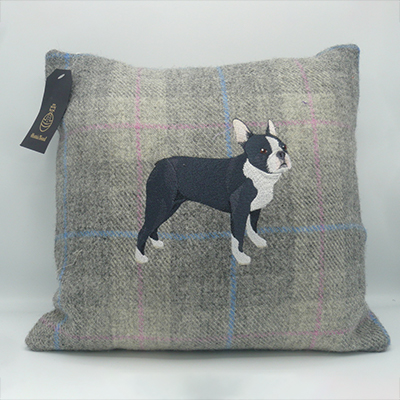 What is unique about your work? Do you use special methods or make unusual products?

I love natural fabrics and have recently been making bags using Cork fabric sourced from Portugal, where the cork trees grow.
I purchase the Harris Tweed I use direct from a warehouse in Stornoway, on the Isle of Lewis. The Harris Tweed Authority sends me authentication labels to attach to my goods.
Have you won any awards for your work or exhibited somewhere prestigious?

I have exhibited at many fairs and took part as a trader at The Great British Sewing Bee Exhibition at The ExCel Centre, London, a few years ago and had the pleasure of meeting the TV show's presenter, Patrick Grant.

I have also taken part in Crafting Live, at Sandown Racecourse, and met many of the Create and Craft TV channel presenters who attend the event.
Can you tell us the story behind a special artwork you made? Who was it for and why is it memorable?
My mother-in-law made my wedding and bridesmaid dresses, as well as her own outfit, hat and matching clutch bag. Then, when my daughter got married in the Caribbean, I made her wedding and bridesmaid dresses. She wanted embroidery on hers, so my husband bought me my first embroidery machine and I was hooked!
I sell my goods at fairs, exhibitions and via my website www.tweedindeed.com
See more of Helen's work on her Wessex Guild member profile.