In this regular feature we speak to one of the members of the Wessex Guild to find out a bit more about them and their craft, techniques and inspirations.
How did you start doing your craft? What inspired you?
I started sewing at primary school. We all had a thick cardboard shoe box where we kept our needle, thread, and precious stitch sampler. I also sewed with my mum and grandma. As a young adult I began knitting, completing Kaffe Fassett designs.
After leaving college l worked as a social worker for many years and, with the long, demanding hours, my textile crafts took a back seat. After personal injury and tragedy, l returned to my roots to begin embroidery again. I have continued developing my ideas and designs for the last 15 years.
The inspiration for my work comes from Mother Nature in all her guises, as she journeys through the seasons of the year. The New Forest, the forest floor, tropical coral reefs, and sea dragons are particular favourites. The wonderful colours, shapes and the experiences she gives, that transcend ordinary consciousness, are captured as 'snapshots' within my work.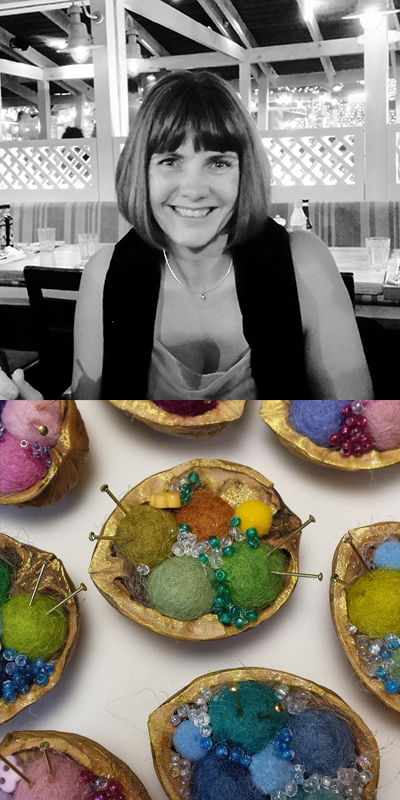 What relevant experience or qualifications do you have?
Most of my dress making/upcycling skills are self-taught. I have completed a City & Guilds Level 3 Diploma in Embroidery and the City and Guilds Level 2 in Machine Embroidery. I try and attend short courses and workshops to extend my skills.
What do you do and where do you do it? Do you have an interesting workspace or location?
I try to make all my gifts as functional as possible, so that they can be used and enjoyed every day. I also upcycle clothes, scarves, and necklaces, giving them a new lease of life. All are hand embellished with my own designs and are, therefore, 'one-offs'.
Since November 2020 l have had a dedicated craft room, full of 'creative stuff'!
I also enjoy working in the garden.
What is your design and making process? Can you explain a little about your techniques?
I very much 'go with the flow', letting my ideas, designs and processes complement each other. Some construction methods, for example those used for my fairy houses, boxes, brooches, and sketch books, are standard. However, the fabrics l make in order to create these are very random, as I let the materials 'speak' to me. Again, when upcycling clothes and other items, l like to mix and match fabrics, change patterns and see what happens.
What is unique about your work? Do you use special methods or make unusual products?
Like an alchemist, l enjoy experimenting with many materials and mediums to create my own fabrics. I can use the same technique: layering/stitching/burning/layering and hand stitching and get a different, fabulous result every time.
I don't have a favourite technique as l like to mix materials and mediums, As far as possible, l make my own buttons, cords, fastenings and so on. All of my designs are my own.
Have you won any awards for your work or exhibited somewhere prestigious?
I was awarded Second place in the public vote at the 'Pins and Needles' event in Poole for this turret with drop down sides (see main image).
I also won a prize at the Red House Museum. The competition was to make a piece for the visually impaired and I made four textured and bright snakes plus a frog.
Can you tell us about a special artwork you made?
I really enjoy making wedding albums as they are unique and hold so many memories for the happy couple.
See more of Paula's work on her Member profile page.