In this regular feature we speak to one of the members of the Wessex Guild to find out a bit more about them and their craft, techniques and inspirations.
How did you start doing your craft? What inspired you?
I was trained and worked as an Occupational Therapist and part of the training included learning several crafts – weaving, metal work, cane seating, but not pottery, which I had always wanted to try. I found a pottery course in Devon run by John Shelly, went there for a week – and I was hooked!
What experience do you have?
About two years after the Devon course, friends mentioned a pottery near Burford. I visited and three months later was offered a job in this lovely workshop as a 'thrower', making slip-decorated earthenware and learning about preparing clay, slip decorating, glazing and kiln firing. It was hard work, but a wonderful job. Later I worked at another Cotswold pottery, before setting up my own workshop in Deddington, Oxfordshire.
Where do you work?
I have a studio in my garden in Liss village.
What is your design and making process?
Most of my work is thrown on the potter's wheel. I make domestic ware – mugs, jugs, bowls ovenproof dishes with blue and white slip decoration. Some of these are made on Hump moulds in red Earthenware, or buff Stoneware clay fired in an electric kiln. The high fire Stoneware clay I use to make items for the garden, such as chickens in rough 'Crank' clay, plus poppy seed heads on garden canes, birds, small sheep, cows and clocks.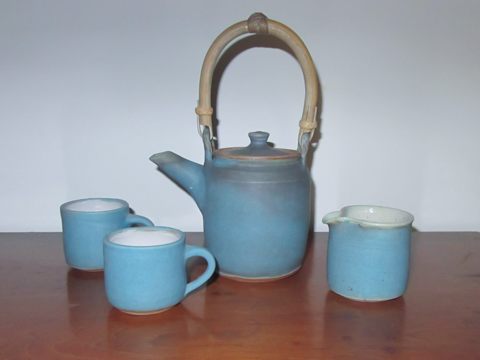 What is unique about your work? What products are you working on now?
The inspiration for my work comes from the garden, where I have my studio. At the end of it is a small river with trees, flowers, birds, squirrels and, sometimes, ducks. At the moment I am making tiles in white earthenware, both square ones and small oblong ones, which are decorated and glazed.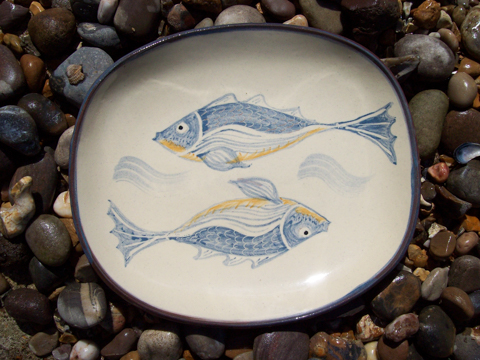 Where do you sell your work?
As a member of the Wessex Guild I exhibit and sell my work at Guild shows, Hampshire Open Studios and at a shop in West Sussex. I am a member of The Petersfield Arts and Crafts Society (PACS) and their Potters Group, and exhibit with them too.