In this regular feature we speak to one of the members of the Wessex Guild to find out a bit more about them and their craft, techniques and inspirations.
How did you start doing your craft? What inspired you?
I have always drawn and painted. At school, Art was my favourite subject. I was inspired by artists like Canaletto, who captured all the detail in their masterpieces. After school, I carried on my art as a hobby, first with pen and pencil drawings and then watercolours. My subjects were historic buildings in local towns and villages.
What do you do and where do you do it?
After many years of painting at home, I now have my own studio – a converted garage – where I can paint and display my art. We are lucky to live in the New Forest and so I am surrounded by inspiration. Nowadays my subjects reflect my location, including paintings of trees, forest animals and local landmarks. But I also enjoy painting vintage vehicles and producing animal portrait commissions.
What is your design and making process? Can you explain a little about your techniques?
My style has always been detailed and I usually use watercolours. But I also use acrylics and still enjoy using pen and pencil. Certain subjects lend themselves to a particular medium.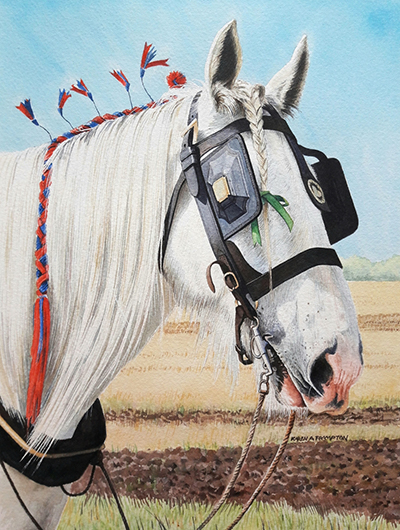 What is unique about your work? Do you use special methods or make unusual products?
Recently, I have been producing artwork on reclaimed, vintage wood boards and I like to use the grain of the wood as part of the composition. This is something, I think, that is a little different!
Finally, I get so much joy and pleasure from Art, so my philosophy is that Art should be available for all to enjoy!
See more of Karen's work on her Wessex Guild member page.