In this regular feature we speak to one of the members of the Wessex Guild to find out a bit more about them and their craft, techniques and inspirations.
How did you start doing your craft? What inspired you?
As a child I was always making something. My parents were both creative and I have crystal clear memories of creating with both of them. My dad was a decorator and he used to roll out lining paper on the floor in front of the fire in the sitting room and we would both lay on our tummies drawing. He was very quick; he used to draw fighter jets and women's faces! I remember making cats with curly tails with my mum, and snowmen covered in cotton wool. Mum painted in acrylic – very precise paintings, usually of twigs, catkins and flowers. I like to think I have inherited my mum's precision with my dad's speed!
What relevant experience or qualifications do you have?
I stopped studying art after my A levels. I had a place at art college, but I needed to start earning money. It is a sadness to me that I wasn't able to carry on, but, knowing what I know now, I am not sure it was a bad thing. I have never stopped creating and never stopped drawing. And I do believe that it is an area in which you never stop developing.
What do you do and where do you do it? Do you have an interesting workspace or location?
I used to have a studio, which was originally our dining room, but we turned it into a dual-purpose area. As my children have grown, they have needed their own space, so my studio is now the rather lovely bedroom of my 20-year-old son! So I make it work, and I create from our sitting room, my bedroom, or wherever I can. During lockdown in 2020 we converted our large shed with big windows into a studio space for me. I adore it, but it's too cold out there at the moment. I want it to be a luxury space that I love being in, not a shivery one.
What is your design and making process? Can you explain a little about your techniques?
I cannot settle on one thing. I need a vast array of things to keep my interest as I tire of the same thing very quickly. So I draw, paint (acrylic, oil, watercolour, mixed media and digital), crochet, sew, embroider and really enjoy pottery, although that is not possible at the moment, due to Covid, as I don't have a kiln of my own.
What is unique about your work? Do you use special methods or make unusual products?
At the moment I am really enjoying using words. I love writing and combining that with my work means I can create the feel of a place, hopefully. My first was Old Winchester Hill, and I have since done Llanddwyn Island and Burgh Island, for which I moved to my tablet to paint digitally. It is much better suited to the complex process of writing, painting, and designing. If you make a mistake with the writing, you can press 'back' and correct the mistake, or move things around to get the positioning right.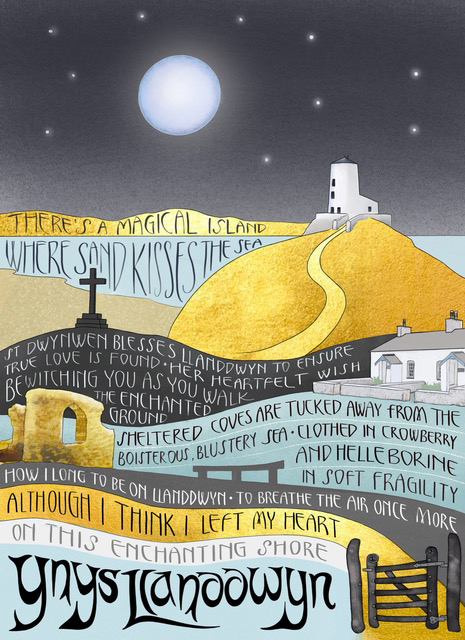 Have you won any awards for your work or exhibited somewhere prestigious?
I have had my work featured on BBC One! That sounds a lot more of an achievement than it was. I was contacted through Etsy by the designer working on 'The Big Build' with Nick Knowles. This is a programme where they call on volunteers and help of all kinds to renovate a house to make it suitable for someone who has been though a huge ordeal, enabling them to have a good home life. The designer had found my work on Etsy and loved it. She asked if I could send her a file of my Barn Owl fountain pen drawing, so they could print it off and use it in the bedroom of a boy who had been having a terrible time.
I decided it was best to actually frame a print and send it to them. I was honoured to be asked and even more delighted to be able to make a difference to someone who needed a boost. I have to say it was such a total delight to sit down with my husband and boys and watch the programme, whilst pausing it all the time with the kids shouting "There it is, Mum!" every few minutes.
Can you tell us the story behind a special artwork you made? Who was it for and why is it memorable?
I think my Llanddwyn Island piece is the most special to me. It's a place of the most incredible beauty and atmosphere. I have precious memories of walking to the island, with my husband and boys, and having an almost spiritual experience. The combination of my favourite place with my favourite people – it doesn't get much better than that!