In this regular feature we speak to one of the members of the Wessex Guild to find out a bit more about them and their craft, techniques and inspirations.
How did you start doing your craft? What inspired you?
I have stitched all of my life, inspired by my mother, who was a very creative needleworker and teacher of her craft. I followed needlework in school and obtained my 'O'-Level creating a range of garments. I even made my own bridesmaids' dresses.
What relevant experience or qualifications do you have?
I had a nursing career for 32 years and, during that time, I created my own garments and used elements of needlecraft. I obtained a variety of City & Guilds qualifications, including embroidery, millinery, patchwork and quilting. I also took teaching qualifications – Cert Ed (FE) and MA (Ed) – to enable me to teach following retirement from my nursing career. Unfortunately, I had to retire early due to my health.
Following four years of recovery, I obtained a BA(Hons) in Textile Art and an MA in Textile Design at Winchester School of Art (Southampton University).
What do you do and where do you do it? Do you have an interesting workspace or location?
I create my work at home, where I have a studio. I work indoors with my sewing machine and out in my studio with papers and paint.
What is your design and making process? Can you explain a little about your techniques?
I work with paint, print and stitch to create my textile art. I begin with a plain piece of cotton cloth and start a process of layering paint, allowing time between the layers for drying. Then I print using blocks/lino cuts. Next, I bring the piece of work back to life with stitch. I use free machine embroidery, hand stitch, applique and dyed cloth within my work. I often work with printed papers and recycle used cloth into new works of art. Each piece has a way of developing intuitively, finding its own way during the developing process until finalised, mounted and framed.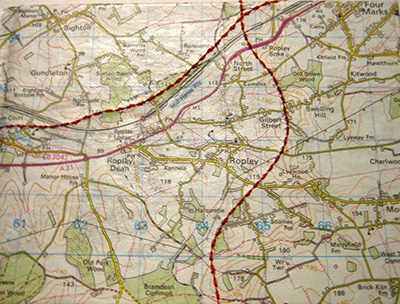 What is unique about your work? Do you use special methods or make unusual products?
Each piece is unique and a one-off design. My cards have a removable gift or are a piece of art that can be framed. I will often develop a series of work and then continue with new ideas. I create my own range of sketchbooks with designer covers. These vary in size from miniature to A6. My map sketchbooks and bookmark cards often evoke memories for people, which gives meaning to my creative practice.
Have you won any awards for your work or exhibited somewhere prestigious?
I was a selected Graduate for New Designers and the Embroiderer's Guild in 2010/11 and have exhibited broadly at textile fairs, the Knit & Stitch shows in Alexandra Palace and Harrogate, plus at ExCeL in London and Manchester with Creative Crafts.
Can you tell us the story behind a special artwork you made? Who was it for and why is it memorable?
In 2012, following on from one of my degree art pieces, I created 'Gathering Memories', a worldwide project raising over £7,500 for the Alzhiemer's Society. Read more here.
In addition, I created a piece of textile art to celebrate the 40th anniversary of the end of the Falklands War as a memory piece for 2022. It is being exhibited at the Army Air Museum at Middle Wallop. This piece was inspired by my drawings of the helmets used in the war, with the poppies suggesting the endurance of the soldiers, 'Lest we Forget'.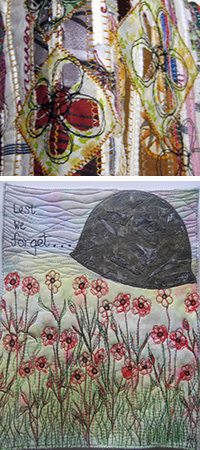 The period of the Falklands War was a particularly memorable time for me, as I was expecting my first daughter during the conflict. It was a frightening time for me and many others. The war ended in the month that she was born. This personal experience gave me further meaning in creating the piece.
Is there anything else you want to add?
I am a co-founding member and Chair of an exhibiting textile art group called Visual Marks, which was set up eight years ago. We continue to exhibit annually.
I am a selected Member of the Society of Designer Craftsmen, now an MSDC and have exhibited with the organisation at the Mall Galleries in London and the Oxmarket Art Gallery in Chichester.
I belong to several textile and art groups and continue with my own development. I pursue new ideas with imagination, fragility and determination through life.
I am always happy to discuss individual commissions. Also I am available for workshops and talks. Contact me on mcbethhe@aol.com
Main image: (left) An example of Elizabeth Saunders' textile work featuring painted paper, appliqué and stitch, and (right) a piece created to raise the profile of bees.