In this regular feature we speak to one of the members of the Wessex Guild to find out a bit more about them and their craft, techniques and inspirations.
How did you start doing your craft? What inspired you?
In 1989 my wife gave me a Christmas gift of a weekend lesson in Woodturning in Somerset.
What relevant experience or qualifications do you have?
My experience has been gained over the past 30 years and I am a Registered Professional Turner.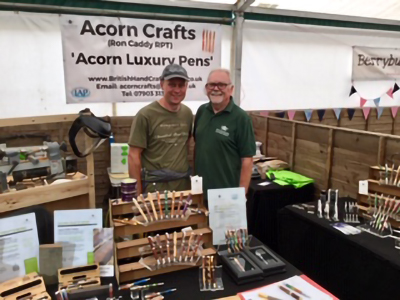 What do you do and where do you do it? Do you have an interesting workspace or location?
For the past 17 years I have specialised in creating 'Handcrafted Pens of Distinction'. For 16 years I worked from a unit at the Fairground Craft & Design Centre but now I work from a purpose-built studio at home.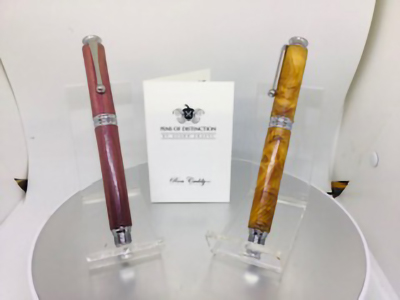 What is your design and making process? Can you explain a little about your techniques?
I advise pen designers on creating new pen models. I use character timbers and acrylics to create the pens.
What is unique about your work? Do you use special methods or make unusual products?
Each pen is unique due to the natural character and grain of the timber; no two pens can be the same. I cast some of the acrylics myself.
Have you won any awards for your work or exhibited somewhere prestigious?
For several years a number of my pens have been bought by the Worshipful Company of Turners in London. My pens have also been bought and displayed at the Chicago office of an international management company.
Can you tell us the story behind a special artwork you made? Who was it for and why is it memorable?
One particular commission was for pens with an inlay of 10 woods. They were used to create a penguin design, as that was the logo of the company which commissioned them.
Is there anything else you want to add?
For the past two years I have mentored a pen maker in Kerala, India. I also teach the art of penmaking and am the National Co-ordinator for Youth Training & Development for the Association of Woodturners of Great Britain and the Worshipful Company of Turners.